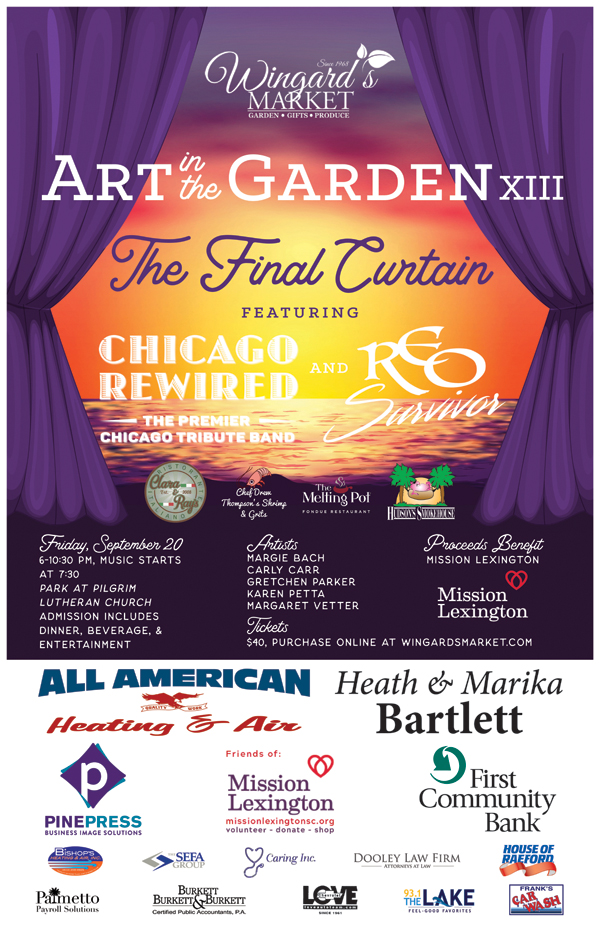 Celebrate with us on Friday, September 20th from 6:00-10:30 pm for our 13th and final Art in the Garden community fundraiser for Mission Lexington! This event has raised over $175,000 and been attended by over 20,000 people over the years. Our goal this year is to end on a high note and raise $30,000!
Enjoy a cool Carolina evening under the stars as Wingard's is transformed into magical place, full of great food, beverage, friends, art and music from REO Survivor, plus Chicago Rewired, the Premiere Chicago Tribute Band.
REO Speedwagon and Survivor's music powered the 80's and 90's, and Chicago celebrated their 50th year in 2018, and all are still going strong. Both of these bands are the next best thing, and sound just like the original. They are all talented, seasoned professional musicians joining forces with the common goal of accurately replicating the timeless music of all three bands – the soundtrack to great memories for so many people.
For a preview of what to expect, check out this video from Art in the Garden in 2008.
Proceeds from the evening go to Mission Lexington, a local nonprofit organization, which helps those individuals and families in need, in Lexington County.
Dining will be provided by Hudson's Smokehouse, Clara & Ray's Italiano Ristorante, Chef Drew Thompson's Shrimp and Grits and The Melting Pot will provide tasty desserts. Beverages will include wine, beer and Pepsi products!
Tickets are $40 each which includes dinner, beverages, and entertainment. All sales are final, no refunds, rain or shine. Gates open at 6 and the music starts at 7:30. We hope to see you here!