Lexington's Holiday Open House
Tis' the Season to Shop Local!
Tis' the Season to Shop LOCAL …
Thursday, Nov. 2, Friday, Nov. 3, Saturday, Nov. 4, Sunday, Nov. 5
Gather your friends & family together to shop locally on this weekend by visiting participating Lexington merchants. Refreshments, door prizes and unique treasures await you for a weekend filled with sales and specials bound to get you into the Holiday spirit.
Get your shopping done early …or just browse around for ideas!
Special hours vary by business.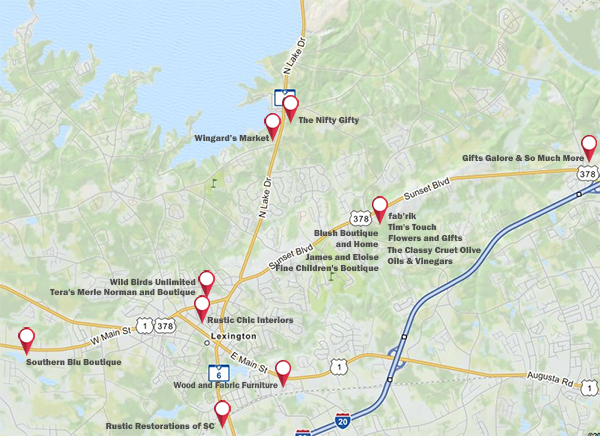 Visit these participating merchants and check their Facebook Page for Open House Specials.

Blush Boutique and Home
5175 Sunset Blvd. Suite 7
(803) 520-0643
Thurs 10-7, Fri 10-6, Sat 10-4, Sun 1-4
facebook.com/Blush-Boutique-Home-260991340746072/
fab'rik
5135 Sunset Blvd, Ste F, (Target Shopping Center near Chicken Salad Chick)
(803) 957-0722
Thurs 10-8, Fri 10-7, Sat 10-7, Sun 12-5
facebook.com/fabriklexington/
Gifts Galore & So Much More
170 Corley Mill Rd
(803) 606-7082
Thurs-Sat 10-6, Sun 12-6
facebook.com/Gifts-Galore-So-Much-More-1604493403170716/
James and Eloise Fine Children's Boutique
5175 Sunset Boulevard Suite 8
(803) 399-8408
Thurs 10-7, Fri 10-6, Sat 10-4, Sun 1-4
facebook.com/jamesandeloiseboutique/
Rustic Chic Interiors, LLC
207 West Main Street
(803) 673-9000
Thurs-Sat 10-5
facebook.com/rusticchicinteriorsri/
Rustic Restorations of SC
808 South Lake Dr.
(803) 673-4591
Thurs to Fri 10-6 Sat 10-3
facebook.com/rrofscllc/
Southern Blu Boutique
108 Jamestowne Ct. Suite A
(803) 399-1346
Thurs-Sat 10-6, closed Sun
facebook.com/southernblu/
Tera's Merle Norman and Boutique
427 Columbia Ave.
(803) 359-7755
Thurs-Sat 10-6, Sun 1-5
facebook.com/Teras-Merle-Norman-120492081297047/
The Classy Cruet Olive Oils and Vinegars
5175 Sunset Boulevard Suite 10
(803) 785-7887
Thurs 107, Fri 10-6, Sat 6:30-6, Sun 1-4
facebook.com/theclassycruetoliveoilsandvinegars/
The Nifty Gifty
104 Andrew Corley Road
(803) 808-2380
Thurs 10-7, Fri 10-6, Sat 10-4, Sun 1-5
facebook.com/TheNiftyGifty/
Tim's Touch Flowers and Gifts
5175 A Sunset Blvd, Hope Ferry Center
LOWER LEVEL Rear of the shopping center.
(803) 808-3608
Thurs 5:30-7:30 Fri 10-5:30 Sat 9:30-4:00 (Doorbusters 9:30-11:30), Sun 1- 4
facebook.com/timstouchflorist/
Wild Birds Unlimited
435 Columbia Avenue
(803) 951-2070
Thurs – Sat 10-6, Sun 1-5
facebook.com/wbulexingtonsc/
Wingard's Market
1403 N. Lake Dr.
(803) 359-9091
Thurs-Sat 8:30-6, Sun 1:30-5
facebook.com/WingardsMarket/
Wood and Fabric Furniture
819 E Main Street
(803) 490-2097
Thurs-Sat 10-5
facebook.com/woodandfabricfurniture/