FOR IMMEDIATE RELEASE
Wings & Things …Invite Wildlife to Your Backyard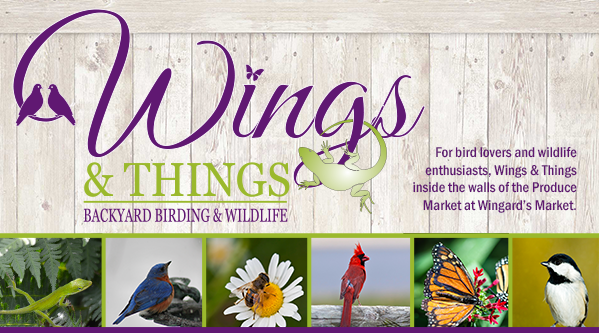 Lexington, SC – September 15, 2016 – Wingard's Market is proud to announce a new addition to the Market.  For area bird lovers and wildlife enthusiasts, a new department called Wings & Things has opened inside the walls of the Produce Market.  Wingard's Market has stocked its shelves with an array of items to turn your backyard into a habitat for birds and wildlife: shelters, feeders, seeds, accessories, observational tools and other items to help you enjoy the wildlife in your backyard.
Continuing in the footsteps of his Grandfather, Judson Wingard, and his love for nature, Zach Steinhauser will put to work his degree in Wildlife Ecology and Conservation from the University of Florida as he heads up this new department at Wingard's Market.
"Even as a kid,  Zach had a love for wildlife;  when other kids were out playing ball and riding bikes, Zach was catching turtles in the lake, hunting for fox dens in the woods, and tormenting his sister with snakes. Wally and I are excited Zach has joined us at Wingard's Market, and we look forward to watching him educate our customers and impact the community with his appreciation for birds and nature,"  Delores Wingard Steinhauser said.
Get Up, Get Out and Get Back to Nature has been the theme at Wingard's Market this year, so it's only fitting that Wings & Things makes its debut now. Backyard birding and wildlife watching are becoming some of the most relaxing, fulfilling and educational hobbies that anyone can enjoy, regardless of age. With nature as a common ground, Americans are 'nesting', creating entertainment and interest in their own back yards instead of expensive entertainment outside of the home.
"My goal is to instill the idea of community-based conservation by providing the education and resources to effectively cohabitate with wildlife. It's more than birds…it's being here to answer questions; it's about helping our customers combine their love of plants while supporting local ecology.  I like to say …Wingard's is going greener!" Zach stated.
Zach and the staff of Wingard's Market hope to add another dimension to creating a beautiful backyard living space with the addition of Wings & Things.  By providing the best bird seed from Cole's of Kennesaw, GA, as well as other quality products, and encouraging local bird conservation, interest in the Great Backyard Bird Count and Neighborhood Nestwatch, customers can expand their knowledge and ability to enjoy nature right at home!
Whether you are a new bird watcher or a backyard wildlife expert, you'll find what you need at Wings & Things.  Stop by and browse through our new department inside the Produce Market at 1403 North Lake Drive in Lexington, South Carolina.
While you're here, experience Wingard's Market…a destination Garden Center
Come enjoy a stroll under century-old pecan trees and the quiet ambiance of a garden center steeped in history. Be inspired by the lush colors of nature, and find a peaceful spot to enjoy the birds, blossoms, and butterflies. Wander through five rooms of garden lifestyle gifts in the Gift Shoppe and enjoy the taste of local farm-fresh foods in the Produce Market.
About Wingard's Market – Wingard's Market is a family oriented business providing outstanding customer service and professional gardening advice to help make you a better gardener. With plants, gifts, birding supplies  and fresh produce, Wingard's Market is becoming Lexington's favorite local market.  It was named in 2015 one of the "Top 100 Revolutionary Garden Centers" by Today's Garden Center magazine, and Delores Steinhauser was selected as the 2016 Palmetto Center for Women Honors in the Entrepreneur Category. Wingard's Market is located at 1403 North Lake Drive in Lexington, SC. Call (803) 359-9091 or visit wingardsmarket.com.
#