A growing legacy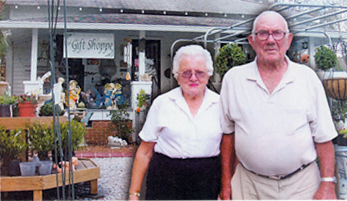 Margie and Judson Wingard didn't set out to create a big business. It developed out of their love of plants and their desire to help others enjoy them just as much as they did.
The seed was planted in the late 1960s, when Jut and Margie began propagating azaleas for their yard. Thanks to their green thumbs, they found themselves with more than they could use, so they set up a roadside stand with a hand-painted sign advertising "Azaleas For Sale 50 Cents."
By the time Judson retired from his long career at South Carolina Electric & Gas in 1983, the family's azalea business was flourishing. Over the next 20 years, he and Margie poured their energy into developing their growing nursery. At one point, Wingard's Nursery was rooting 30,000 cuttings of 150 azalea varieties each year, as well as growing and selling many other plants.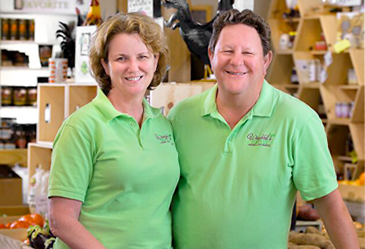 By the mid 2000s, the Wingards began transferring ownership to their daughter and son-in-law, Delores and Wally Steinhauser. Armed with some ambitious plans and a vision for the future, we expanded and modernized the business, adding updates like a point-of-sale system and an excellent website.
Over time, the nursery has grown into a full-service garden center, but it hasn't lost its authentic charm. It's still located beneath sprawling decades-old pecan trees in the shadow of the home where Jut grew up. A visit to Wingard's Market is so warm, relaxed and friendly, our customers say it's like a visit to grandma's house.
Heritage in full bloom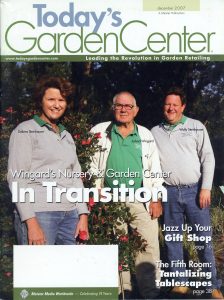 The hard work has paid off. Not only has Wingard's Market experienced tremendous growth and success and developed an outstanding reputation, it was also named one of the Top 100 Revolutionary Garden Centers by Today's Garden Center magazine. It's also affiliated with an official hemerocallis (Daylilly) garden.
Our stunning water features and beautiful displays are designed to inspire our customers as they explore the nursery. We offer a broad selection of plants and plenty of them, including a vast array of azaleas and daylilies, annuals, perennials, shrubbery and trees, soils, composts, mulches, beautiful container gardens, a great selection of pottery, and a Gift Shoppe with unique and different gifts for gardeners and nature-lovers, and fresh local produce along with everything for the wild birds in your yard! We also offer gift certificates, so you can give the Wingard's experience to someone special, local or around the world.
Our knowledgeable, friendly staff can answer just about any gardening question. We focus on personalized service to help make you a better gardener, and we routinely offer informative classes and workshops, both in a classroom setting and online. We also connect with our customers with a monthly newsletter and blog. Reading it is like reading a letter from a friend—one who knows an awful lot about gardening. It's our goal to help our customers love creating lush, beautiful outdoor environments as much as we do.
Rooted in the community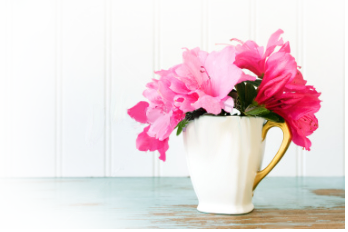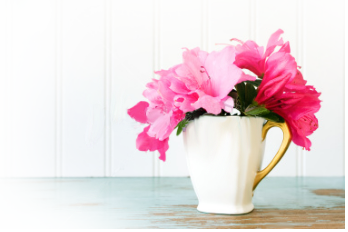 We are truly committed to making our community a more beautiful place, and that commitment goes far beyond flowers. Wingard's is considered a pillar of the Lexington-Columbia community. We take pride in sponsoring events or donating plants or services to Mission Lexington, Carolina Wildlife Center, Lexington County Choral Society, Lexington Chamber & Visitors Center and the Lexington Public Schools.
Our annual customer appreciation and fundraising event, Art in the Garden, features local artists, a variety of musical groups and delicious food and wine, all for a good cause. As a result of this event, we have donated $200,000 to Mission Lexington.
We are a family business, so it makes sense that we're family-oriented. Every year, we have had activities geared toward children. We want Wingard's to be as much a part of your family's life as it is a part of ours.
Make Wingard's Market your destination garden center! From shopping to workshops to events to a peaceful walk under the pecan trees – there's always something blooming at Wingard's … come experience Wingard's, local since the 1760's!!