Wingard's Rewards Club
Become one of our valued customers and begin saving today!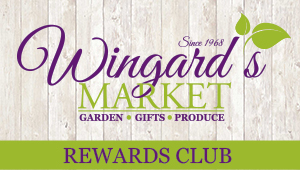 Thanking our loyal customers…
General Terms and Conditions
Members must be 18 or older to participate.
Rewards card must be presented at time of sale to receive credit.
Rewards Card is nontransferable and may be used only by the individual member to whom it was issued. Rewards cannot be combined with Rewards accrued by another Member.
Wingard's is not responsible for lost or stolen Rewards Cards.
Rewards accrual will be calculated based on Member's Qualifying Purchases, which exclude: purchase of gift certificates, garden dollars, delivery charges, landscape design, potting charges, landscape installation charges, any other labor charge, event tickets, and event/workshop registration fees.
Rewards accruals are calculated after discounts, rewards, coupons and sales tax.
Returns will be deducted from Member's Rewards accrual.
Rewards certificates are redeemable for in-stock plants and merchandise, only and cannot be redeemed for cash, gift certificates, delivery or labor services.
Rewards Card, certificates and balances have no cash value. Unused Rewards certificates expire at end of each redemption period.
Rewards certificates must be presented in order to spend your reward.
Wingard's Market reserves the right to modify or terminate the Rewards program without notice.
The Reward Member is responsible for maintaining accurate, updated personal information with Wingard's.
Rewards Thresholds
Total Spent Reward
$50.00 $5.00
$150.00 $10.00
$350.00 $15.00
$500.00 $20.00
$750.00 $30.00
$1000.00 $40.00
$1500.00 $50.00
$2000.00 $60.00
$2500.00 $70.00
$3000.00 $80.00
$3500.00 $90.00
$4000.00 $100.00
Important Dates to Know:
First accumulation period of the year is January 1 – June 15.
Rewards certificates for the first period of the year will be mailed by June 30 and are redeemable through August 31.
Second accumulation period of the year is June 16 – December 31.
Rewards certificates for the second period of the year will be mailed by January 15 and are redeemable through March 1.
Rewards Card Application
Please fill in all of the information and start saving today! All fields are required.