Add to Your Summer Vegetable Garden
The taste, the smell, the classic heirloom tomato will not let you down. Seeds that have been preserved throughout generations will leave your mouth watering for more!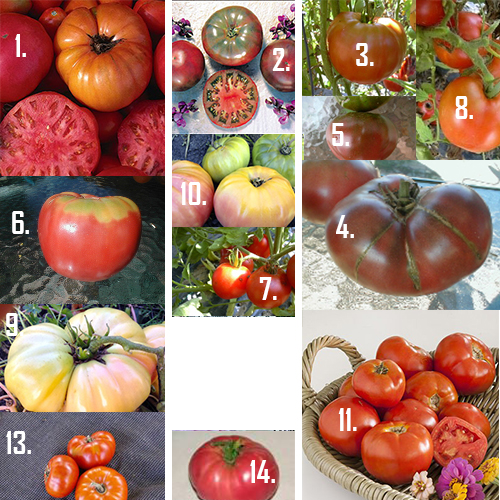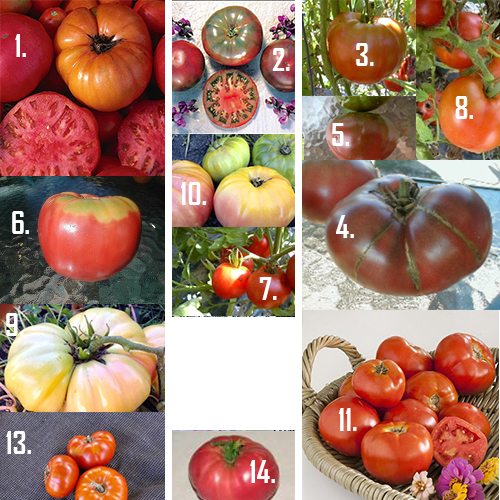 Here is a list of our favorite heirloom varieties …many you can find in our Fresh Produce Market throughout the summer months.
1. – Mortgage Lifter is a classic heirloom tomato with a terrific tale. In 1940s Logan, West Virginia, a radiator repairman crossed four of the biggest tomatoes he could find to produce this beauty. He sold seedlings of it, using the proceeds to pay off his $6,000 mortgage in six years. All these years later, it's still a popular tomato among West Virginia gardeners—and does very well in other parts of the country, too. Plants bear extra-large beefsteak tomatoes with few seeds and mild flavor. Fruits are pink when mature and perfect for slicing onto sandwiches. Mortgage Lifter bears fruit all summer long. Plants definitely need staking or tall caging; gardeners report this tomato to grow as tall as 10 feet.
2. – The Cherokee Purple was rediscovered by tomato grower Craig LeHoullier. LeHoullier claimed that it was more than 100 years old, originated with the Cherokee people. The Cherokee Purple tomato has a unique dusty rose color. The flavor of the tomato is extremely sweet with a rich smoky taste. The Cherokee Purple has a refreshing acid, is watery, thick-skinned and earthy with a lingering flavor. The Cherokee Purple plants are very prolific making this plant a good heirloom for gardeners and farmers.
3. – German Johnson: German Johnson (also known as German Johnson Pink) is an heirloom that came with immigrants to Virginia and North Carolina. It is one of the four 'grandparents' of the Mortgage Lifter tomato. It is indeterminate with large fruits that are 'rough' (not nice and smooth like a Celebrity, but kind of ridged) and way ¾ to 1.5 pounds. They have pink skin with yellow shoulders, mild taste, low acidity, and are a very meaty fruit with few seeds. They have heavy yields. They are good sliced or for canning.
4. – Black Krim: This heirloom tomato originates from the Isle of Krim in the Black Sea, near the Crimean Peninsula of Ukraine. It is believed that soldiers returning home from the Crimean War, in the late 19th century, gathered these seeds and began sharing them. As a result these seeds were later widely distributed throughout Europe. The Black Krim is highly regarded for its excellent, yet bold taste, and medium to large size. This tomato can vary in color ranging from a reddish brown hue towards the bottom of the fruit, then darkening to greenish-dark purple shoulders. Just a pinch of salt is needed to enhance the flavor, since this tomato already has a slight salty taste.
5. – Paul Robeson: These taste bud tantalizers are native to the southern Ukraine, a relatively small area on the Crimean Peninsula and were limited to only a handful of recognizable varieties. Their seeds were later distributed throughout Western Russia after the Crimean War by soldiers, returning home, during the early 19th century. Through the years, new varieties of all shapes and sizes began to appear throughout the Imperial Russian Empire. They were also known to be grown in modern-day Mexico by the Aztecs. Eventually, they spread north. We know that Alexander W. Livingston, a legendary tomato seedsman and tomato breeder from Reynoldsburg, Ohio, described purple tomatoes he had collected as a child during the 19th century. "Black" tomatoes are not really black. They cover a range of dark colors including deep purple, dusky deep brown, smoky dark mahogany with dark green shoulders and bluish-brown. The depth and darker range of coloration seems to be encouraged by a higher acid and mineral content in the soil or higher temperatures. In northern climates the greater the amount of exposure to and the intensity of UV rays, the darker the color of fruit that will be produced. Besides their extremely dark colors, black tomatoes are especially noted for their exceptionally rich, earthy tastes. Among all colors, black tomatoes are blessed with the strongest taste and are typically the most admired among true tomato aficionados.
6. – Pruden's Purple: Many folks find this tomato variety comparable in every way to the favorite Brandywine. It has even ranked higher at times in my taste trials. Great for hot day and cool night climate. Large potato leaf vine produces lots of 1-lb., slightly flattened, pretty, blemish-free, purple-pink fruits with few tomato seeds and excellent flavor.
7. – Homestead: An old favorite dating from 1954. Developed by the University of Florida especially for hot climates and known for its reliability to set fruit at high temperatures. Produces firm, meaty tomatoes. Large vines help shade fruit to protect from sunburn, and will need to be staked or caged. Plants in our test garden, where the growing conditions are ideal, bear an average of 50 pounds of fruit over a 6 to 7 week period.
8. – Arkansas Traveler: Originating before 1900 in the Ozark Mountains, Arkansas Traveler is prized for very flavorful, medium-sized tomatoes that resist cracking and keep on coming, even in drought and hot weather. Taste is mild, like the pink color of the fruit. Popular in its home state and beyond. Indeterminate vines do best in tall cages.
9. – Tennessee Britches: From a gardener named Buckley in Dresden, Tennessee who passed the seed on to Joe Atnip who named it "Britches" after his oldest daughter when she was a little girl. Ruffled dark pink beefsteak tomatoes, sweet flavor, 1-2 lb fruit with thick skin. Ripens from beautiful cream yellow to red.
10. – Belgium Giant: An heirloom variety from Ohio dating back to the1930's, although its name and shape suggests roots in the old Belgian ribbed tomatoes. Plants produce large quantities of huge fruit; with some as large as five pounds (my personal best is 3.3 pounds). Tomatoes are very sweet, meaty, and turn dark pink when mature. A low-acidity tomato that is excellent for salads, sandwiches, and canning. The pink skin occurs as the result of clear skin over red flesh, while most red tomatoes have a yellow skin over red flesh.
11. – Marion: Developed by the USDA vegetable station in Charleston, South Carolina in 1960, Marion is open-pollinated and well adapted to the South. A Rutgers type, but earlier and more disease-resistant. Indeterminate vines bear smooth, deep-globed, and crack resistant fruit all season. High yielding and vigorous, so be sure to stake or cage. A great slicing tomato.
12. – Purple Dog Creek: This seed is a rare old family heirloom from Dog Creek in Hart County, Kentucky. Their deep purple-pink fruit can grow up to 1 to 1½ lbs. each. Hardy and disease resistant, they stand up to the hot temperatures of South Carolina. According to Amish Land Seeds, there is an interesting story behind the seeds that were given first as a thank you gift to church volunteers.
13. – Hazelfield Farm: Found as a chance seedling at Hazelfield Farm, a modern organic farm in the Lexington Kentucky area, where it was out-performing many named varieties surrounding it at the time! Believed to be a chance cross between Carmello and Marmande. Medium-sized plants produce abundance of good-tasting, 8 ounce, slightly flattened red tomatoes, even under adverse conditions of hot, dry summers.
14. – Earl's Faux: A fantastic heirloom Tomato! From Earl Cadenhead who found the seed for this potato leaf tomato variety in a packet of Red Brandywine from a seed trade. Following continued grow outs and additional success, he chose to share these seeds with members of Garden Web. The TomatoFest seed trials proved this variety a WINNER! Our organic tomato seeds produce big, vigorous plants that yield abundant crops of 12-16 oz., beautiful rose-pink, smooth skin, beefsteak tomatoes with a rich, complex and wonderful flavor. The flavor so outstanding that this tomato has won awards in tomato tastings. A great sandwich tomato. We couldn't get enough BLTs this summer!
——————————————————————————————————————
Here at Wingard's, we offer a variety of heirloom tomato plants throughout the growing season. Stop buy and pick up a few to add to your summer vegetable garden. Interested in growing heirloom vegetables?

Are you new to Vegetable Gardening? Check out our collection of gardening videos.