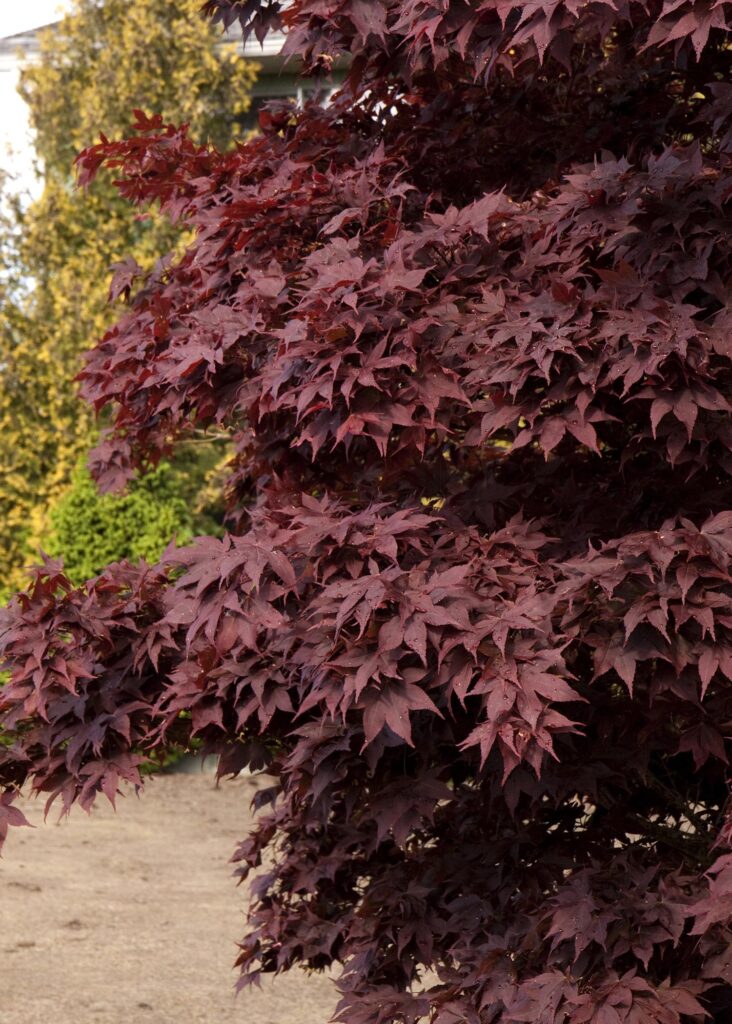 Are you awed by Japanese Maple trees? Have you come into the garden center to pick one? Did the varieties overwhelm you? Let us make it easier for you by explaining Japanese maple differences. Then, when you come in, you'll know exactly what you want.
The native species of Japanese maple (native to Japan and other South Pacific Islands), Acer palmatum, grows moderately to a 20′ by 20′ multi-trunked tree. The leaves have 5-9 finely cut lobes giving them a more delicate look than other maples. Red spring leaves turn to green in the summer and blaze with yellow, orange and red in the fall. All do best with protection from drying winds and hot overhead afternoon sun. During their centuries of use in gardens around the world, gardeners have discovered and propagated those selections with unusual growth habits and bark patterns, as well as leaf color and shape. With hundreds of Japanese maple varieties available at garden centers, we feel a little simplification is in order.
Leaf Shape
The variation Dissectum or Laceleaf Japanese Maple has leaves are deeply cut and finely lobed giving a lace cutout look. These varieties generally grow best in shady locations as the leaves easily burn or scorch. The leaves of non-Dissectum varieties are much less lacy. They resemble the leaves of native maples but are smaller and more deeply cut. These are the two ends of the leaf-shape spectrum. Many varieties lie somewhere in between.
Leaf Color
The leaf color of different Japanese maples also varies. Many have red spring growth changing to green in the summer. However, some retain the red through the growing season. Some varieties have variegated leaves with white, cream, gold or pink. Variegated leaves burn easily in the sun but can revert to all green in too much shade. Green leaves tolerate more sun than red. Autumn is when Japanese maples really put on a show with a riot of blazing colors.
Tree Form
Non-Dissectum varieties grow more quickly into upright forms. Some varieties remain less than 10′ tall but others can grow to 25′ tall by 20′ wide. Laceleaf (Dissectum) maples slowly develop a weeping form approximately 8-10′ tall and 8-12′ wide. However, 'Seiryu' is an exception, growing into an upright form.
| | | |
| --- | --- | --- |
| | Laceleaf (Dissectum) | Non-Dissectum |
| Location | Requires more shade | Tolerates less shade |
| Size | Smaller | 10-25′ tall depending upon variety |
| Tree Form | Weeping | Upright |
| Leaf Shape | Lacy, fine cut | Lobed |
| Leaf Color | Red, green | Red, green, variegated |
Now that you have identified a suitable planting location and the type of Japanese maple you prefer, come see us and let our friendly staff show you the varieties that meet your requirements. Japanese Maple Varieties that we typically keep in stock:
Variety
Exposure
10 Yr Height
Growth Habit
Spring color
Summer color
Fall color
Leaf type
Baldsmith
Sun to part sun
5 ft
Weeping
Orange/Red
Bronze/Green
Orange
Dissectum (Laceleaf)
Bihou
Sun to part sun
7 ft
Upright
Yellow/Green
Green
Orange/Yellow
Non-Dissectum
Bloodgood
Sun to part sun
12 ft
Upright
Red
Red
Bright Red
Non-Dissectum
Crimson Queen
Sun to part sun
5 ft
Weeping
Red
Red
Bright Red
Dissectum (Laceleaf)
Emperor I
Sun to part sun
8 ft
Upright
Red
Red
Bright Red
Non-Dissectum
Kurenai jishi
Sun to part sun
3 ft
Dwarf
Brown/Red
Brown/Red
Yellow/Red
Non-Dissectum
Moonfire
Sun to part sun
8 ft
Upright
Red
Red
Bright Red
Non-Dissectum
Oshio Beni
Sun to part sun
15 ft
Upright
Orange-red
Bronze-green
Scarlet
Non-dissectum
Peaches & Cream
Part sun
8 ft
Upright
Cream/Rose
Green/Rose
Yellow
Non-Dissectum
Pixie (Dwf Bloodgood)
Sun to part sun
6-10 ft
Upright
Red
Red
Bright Red
Non-dissectum
Purple Ghost
Sun to part sun
8 ft
Upright
Red
Red
Orange/Red
Non-Dissectum
Radiant
Sun to part sun
8-12 ft
Weeping
Green/Rose/Salmon
Green/Rose/Salmon/White
Orange/Red
Non-dissectum
Red Dragon
Sun to part sun
4 ft
Weeping
Red
Red
Bright Red
Dissectum (Laceleaf)
Rhode Island Red
Sun to part sun
6 ft
Upright
Red
Red
Bright Red
Non-Dissectum
Sango Kaku
Sun to part sun
10 ft
Upright
Green
Green
Yellow/Orange
Non-Dissectum
Seiryu
Sun to part sun
10 ft
Upright
Green
Green
Orange
Dissectum (Laceleaf)
Shishigashira
Sun to part sun
6 ft
Dwarf
Green
Green
Orange
Non-Dissectum
Skeeters Broom (Dwf Bloodgood)
Sun to part sun
4-6 ft
Upright
Red
Red
Bright Red
Dissectum (Laceleaf)
Tamuke yama
Sun to part sun
5 ft
Weeping
Red
Red
Bright Red
Dissectum (Laceleaf)
Source: Maplestone Ornamentals