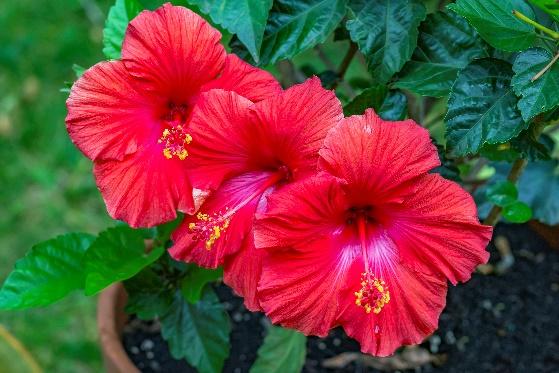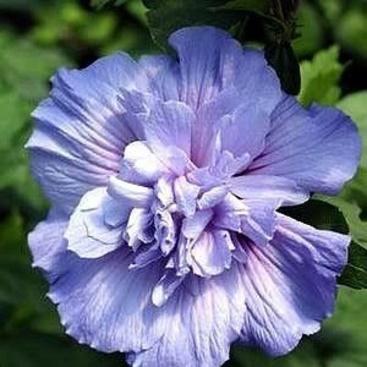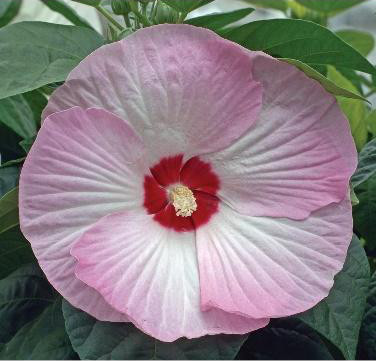 By Kathy Torres
When it comes to big, beautiful blooms in summertime, Hibiscus comes through like no other. Its vibrant bloom colors are showy and dramatic, and although each bloom is short-lived (lasts one day), the plant continues to produce blooms throughout the warm season until frost appears. Tropical Hibiscus is one of the most popular plants for adding color and interest to the home – around pools, patios, decks and other areas used for gathering and enjoying the outdoors. Rose of Sharon, a hardy perennial hibiscus, can withstand cold temperatures and grow anywhere from 5 to 10 ft. tall, making a great focal point in a garden bed. Another category is Perennial Hibiscus. Also known for winter hardiness, it dies back to the ground, but comes back up in spring. Perennial Hibiscus varieties have large blooms, some as large as a dinner plate. The common denominator for all categories of Hibiscus is that each likes the sun! Typically, Hibiscus can handle full sun, however, the summer sun and heat in South Carolina can be brutal, so if placed in all day sun, it is key to provide sufficient water. An area that provides a minimum of 6 hours of sun is ideal and may require a little less water than all day sun. Don't let your hibiscus dry out, or blooming may be inhibited and leaves will yellow. Hibiscus will not bloom in shady spots. There are differences in these groups of Hibiscus, so let's get into the details.
TROPICAL HIBISCUS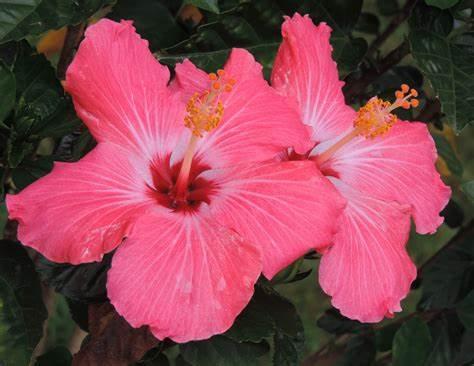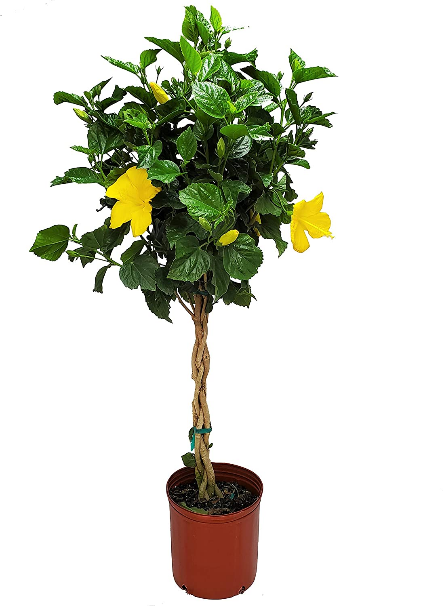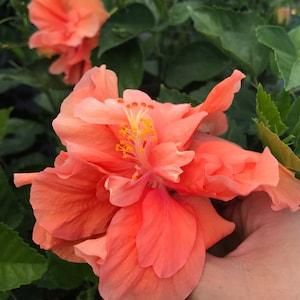 Tropical Hibiscus, Rose senensis, AKA Rose of China, can be found year-round in warm climates like Florida, where the temperatures don't often, if ever, dip below freezing. In our neck of the woods, however, we consider them to be "annual" plants, and most folks replant each spring. You can certainly overwinter potted Tropical Hibiscus in a protected place like your garage, but make sure it gets some direct sunlight, and don't forget to water. Common bloom colors include pink, red, orange, salmon, or yellow, and blooms are trumpet shaped often with a contrasting eye in the center. Some, like the examples below, have colorful edging and/or layered petals. Tropical Hibiscus is available in dwarf and standard sizes, reaching heights of 1-2 ft. and 4-5 ft., respectively. Foliage is shiny, dark green, creating a dramatic contrast against blooms, and you will find them in bush, tree and even braided forms. Great in a container garden or standing alone, Tropical Hibiscus is a notable presence in the garden.
ROSE OF SHARON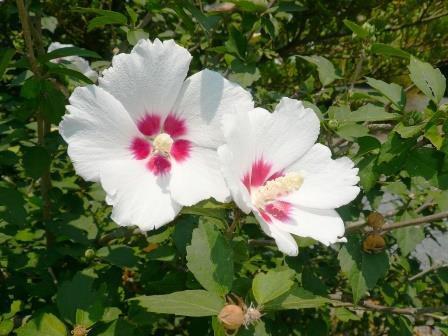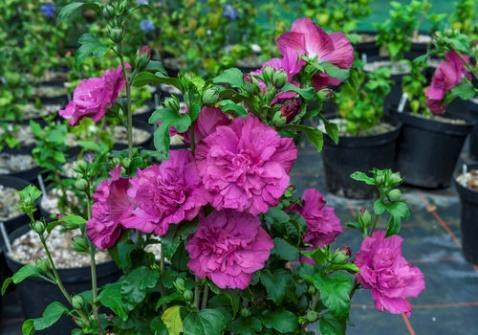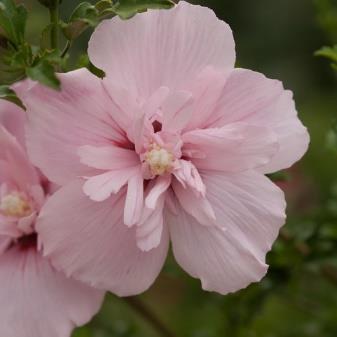 Rose of Sharon, Hibiscus syriacus, is a member of the mallow family and a relative of Tropical Hibiscus. It is also known as Althea or Hardy Hibiscus, just to add a little more confusion. It is not a rose, in fact, the bloom looks nothing at all like a rose. Good grief! This type of Hibiscus is a woody perennial that drops its leaves in winter, but the branches remain. Think of it as a large, blooming, deciduous shrub. Most cultivars grow 6-12 ft. tall, however, you may find dwarf varieties that only reach 3-4 ft. in height. The large single, semi-double or double flowers can be flat or frilly and open from summer to fall when few other shrubs are blooming. Rose of Sharon grows in an upright, vase shape with dark green, toothed foliage. Flowers range from violet, blue, pink, red, lavender, purple or white, with a prominent stamen and often a dark colored eye. Typical growth rate is about 1-2 ft. per year.
PERENNIAL HIBISCUS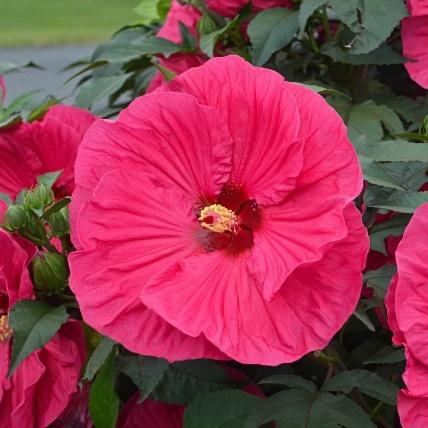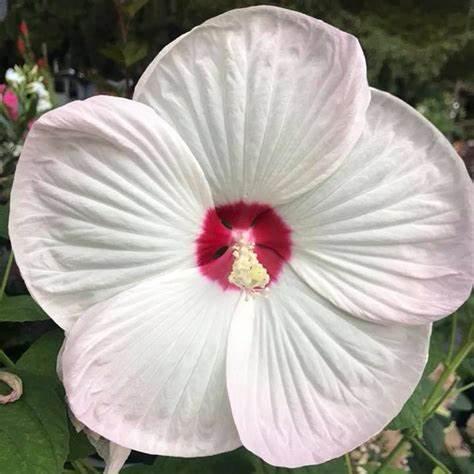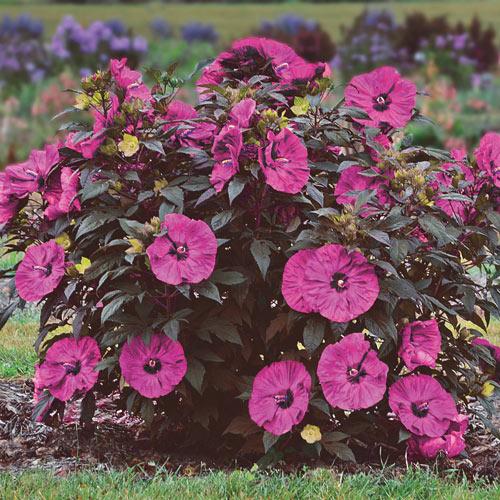 Perennial Hibiscus, AKA Hardy Hibiscus, characterized by winter hardiness and oversized blooms, is an exciting addition to any sunny garden space. Blooms start as bulging, pointed buds, slowly opening into striking discs of colors in the red to white color spectrum. Most blooms are one solid color with a contrasting dark eye in the center. Some varieties have light blushes on the outer edge. Foliage will be green or in some varieties Perennial Hibiscus has spectacular deep reddish-green to burgundy leaves, making an even bigger impression in the garden. The plants can reach up to 8 feet tall and should be placed in an area that is protected from wind to keep the stalks from breaking. If you have a wet spot in your garden, this is perfect for Perennial Hibiscus. It does not like to dry out. As winter approaches, leaves will drop and some stalks may remain. Leave them until new growth begins to appear from the ground in spring, then cut off the old stalks. This wonderful specimen plant does not disappoint!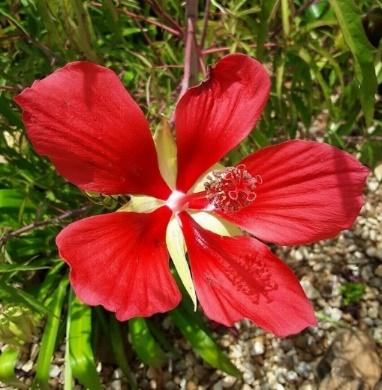 One very popular type of Perennial Hibiscus is Scarlet Swamp Hibiscus, Hibiscus coccineus, AKA Texas Star. A southeastern native with large (6-8 inch wide) brilliant red blooms, Texas Star's petals are more separated than other hibiscus, giving the blossoms a star-shaped appearance. The leaves are deeply separated into narrow, toothed, finger-like lobes. Mature height is 7 ft.
Hibiscus are generally easy to grow with proper watering and sunlight. Feed them like you would any blooming plant with a high phosphorous (middle number) fertilizer. Look out for Japanese Beetles in late May/June and spray with an insecticide. Thankfully, they don't hang around too long!
In addition to being absolutely gorgeous in the garden, Hibiscus can also be found in syrups and teas. Curious? You're invited to Wingard's (newly expanded) Produce Market to check out these products containing Hibiscus:
Roots & Leaves Elderberry Tonic Figment Kombucha – Hibiscus Cherry Lime Flavor
Tea Drops – Hibiscus Glow Flavor
If you're looking for something with special flair for your garden, Hibiscus, regardless of the type you prefer, will meet the challenge. Providing color and interest throughout the summer, right up until frost, it's hard to find a better star of the show!
THERE'S ALWAYS SOMETHING BLOOMING AT WINGARD'S!