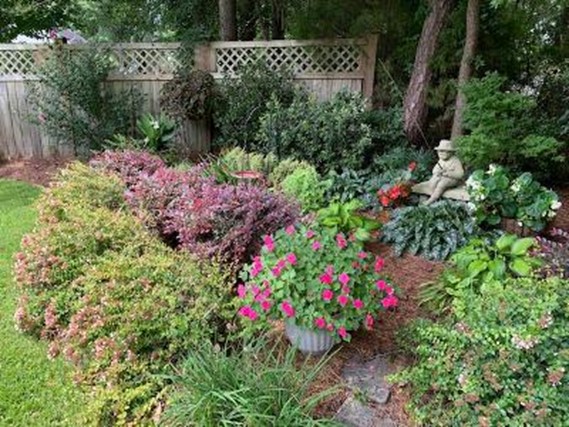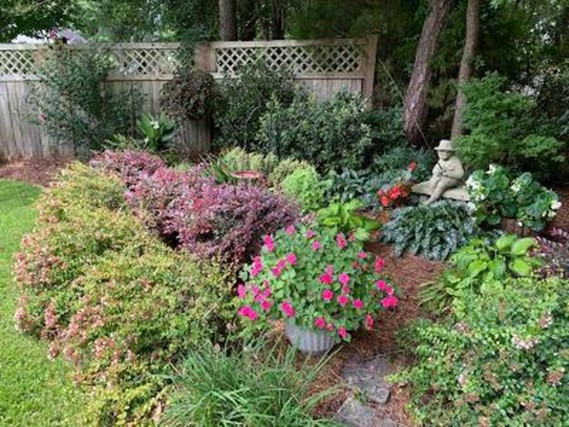 The word "design" can be a bit daunting to most of us. We immediately think of complex rules and requirements, scientific and/or architectural aspects, and then there's the artistic element, which can be most intimidating. There is certainly much to learn in the area of landscape design, and if you are in the mood to do some research, we will provide a few resources at the end of this blog just for that purpose. But, before you jump in the deep end, let's start with a few simple, basic principles.
What do you want to accomplish? Home foundation planting for improved curb appeal? Creating a quiet space or a gathering place for friends and family? Establishing a vegetable garden? Whatever the goal, start with a rough sketch (use a pencil, because you will make changes!) Look for pictures and shop for plants to get ideas on what you like and don't like. Take your time and don't rush. In your planning, think about symmetry and balance, texture and color, straight lines and curves, and focal points.
Symmetry and Balance: We are most comfortable in landscapes that have a sense of balance. Simply put, it's just easy on the eye. There are two major types of balance – symmetrical and asymmetrical. Symmetrical balance is used in formal landscapes when one side of the landscape is a mirror image of the opposite side. These landscapes often use geometric patterns in the walkways, planting beds and even how the plants are pruned into shapes. Think of a Charleston garden. Asymmetrical balance, also known as informal balance, differs from one side to the other and appears to be relaxing and free flowing. Think of an English garden. Using a combination of shapes and sizes along with a strategy of placement will create the symmetry you choose.
Texture and Color: Just as you decorate a room in your home, your landscape should contain a combination of textures and colors. You certainly don't want every plant in a garden bed to be small, round, and green. Find plants that complement one another with different foliage colors and shapes, growth habits, and mature sizes. For example, in a shade garden, plant ferns, next to compact evergreen shrubs, like azaleas. In a more sunny location, plant perennials that bloom at different times to provide pops of color and interest, and, plant a mass of low growing annuals on the edge of a curved bed for a striking border!
Straight Lines and Curves: Lines are created in the landscape by walkways, patios and other hardscapes, fences and garden beds, just to name a few. These provide the "backbone" for a landscape design. By incorporating the lawn, trees, and plants, these lines are enhanced and united to create and complete the landscape. It is important that it all looks like it belongs together, or flows from one area to the next, naturally. A mixture of straight lines and curves works best in your landscape's big picture.
Focal Points: Hardscapes, such as a fire pit or fireplace, create the perfect focal point for a backyard gathering area. Trees offer a stand-alone focal point in the yard and many provide color in the fall or blooms in the spring. Other plant material, for example, Limelight Hydrangea, Adagio Perennial Grass, or Knock Out Rose are good for a garden bed. Statuary, container gardens, trellises, and yard art add personality and whimsy to the landscape. A bird bath and feeder or two creates a beautiful wildlife focus. Remember that a focal point can be either a single object or a grouping.
Select and analyze the area in your yard where the project will take place. Most important… soil, sun and water. Have the soil analyzed (Wingard's and Clemson can help you with this), so you can determine if you will need to amend the soil. Map the sunlight for a day or two to identify how much sun the area receives. Because the afternoon sun is SO HOT here in the summer, you must select plants that can take the heat if you plant in areas that receive sun all day or in the afternoon. Select areas that get more shade for your outdoor gathering spots. Likewise, choose plants that will flourish in shade for these areas. Lastly, investigate and correct any drainage issues and determine how you will water.
Plants and Planting. The very best time to plant is Fall in the Midlands of South Carolina. That being said, Spring planting is second best and the time when inventory at your local garden center is abundant. The key to success is to be diligent in watering throughout the summer. Choose plants that you like and are appropriate for the amount of sun or shade in the area(s) of the project. If the plant tag indicates "full sun" it means all day or all afternoon. Don't be too concerned with the size of the plant when you purchase it, however, make sure you know how big it will get, and plan your spacing accordingly. Knowing and planning for the mature size of the plants is an approach that will result in little or no pruning! Appropriate spacing of plants will also contribute to better health and appearance. Disease becomes a problem when foliage doesn't have breathing room.
It's OK to change your mind! Gardening is an on-going process and inevitably brings about change in the landscape, either because we "just don't like it there," we find something better, or, unfortunately, "it died". Be open to trying something else if you're not satisfied with the results, or you didn't have success. Don't be afraid to move a plant if it's not happy where you planted it (just don't transplant in the heat of summer). When you plan a landscape project, leave room for additions as you get a new idea or see a "must have" plant. Let it be a work in progress, and it will provide continuing satisfaction and enjoyment.
Stay tuned for our October blog where we will provide recommendations on great ideas for focal points in the landscape.
For additional information, check out these links:
https://www.clemson.edu (Master Gardener Training Powerpoint Presentation
https://edis.ifas.ufl.edu (University of Florida Basic Principles)
https://www.bhg.com (Better Homes & Gardens Magazine Tips)
If you want some professional help, Wingard's Market offers a landscape design service. Click here for more information.