In home decorating, we use a focal point to provide something striking that immediately stands out, something that sets the tone or theme for a room, or serves as the foundation for color, texture or form. Whatever it is… a painting or print, flower arrangement, sculpture, pottery, or a collection of some sort, our eyes move immediately to it. The same idea applies to landscape design, and by adding strategic "eye catchers," will enhance the outside beauty of a home.
A focal point can be part of the "big picture" when we consider the curb appeal of a home, for example… a large shade tree with foliage that changes to a bright orange or red in fall, or a flowering specimen tree offering colorful blooms in spring or summer. Large shrubs, like Camellia, Hydrangea, and Fragrant Tea Olive, flanked on opposite corners of a home provide an anchor and establish a pattern or continuity in the design. Many Japanese maple tree varieties have dramatic burgundy or chartreuse foliage, and make a delightful focal point in an entryway. This large plant material accentuates the architecture of the home.
Often, an outdoor living space serves as a focal point in the landscape, and can be as simple as a garden bench, or as elaborate as a stone patio with a garden furniture ensemble and fireplace. To enhance the area, add evergreen plant material to soften edges, container gardens and hanging baskets for color, but be careful, not to overdo it. Hardscapes speak for themselves and what you don't want to do is overpower them and lose the simple beauty they bring.
In a supporting role of landscape design, other smaller types of focal points are effective as accents in individual "garden rooms" created here and there throughout the property. Choose a stand-alone plant, or create a grouping (odd numbers are best) according to size, color, texture, form, etc., that will contrast with the neighboring plants. Container gardens, bird houses and bird baths, as well as yard art, can add interest and provide an eye-catching centerpiece.
Fall is the ABSOLUTE BEST time to plant in the Midlands of South Carolina. The weather is starting to cool off and although growth is beginning to slow down above ground, the roots below will have time in fall, winter and spring, to establish prior to the next season of hot weather. Watering is required less frequently due to the mild temperatures and insects/disease issues are almost nonexistent. If you're ready to get busy and start planting, here are a few recommendations for focal point plants:
Camellia, Japonica & Sasanqua: Evergreen, shiny foliage, great for areas that receive morning sun, afternoon shade, (Sasanqua varieties can take more sun). Many grow 8-10 ft. tall, however, smaller varieties are available. Sasanquas bloom in fall; Japonicas bloom December to March.
Here's just a sampling – new shipment (approximately 30 different varieties) just arrived at Wingard's.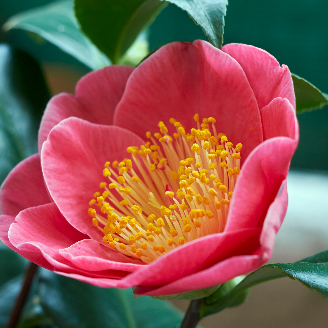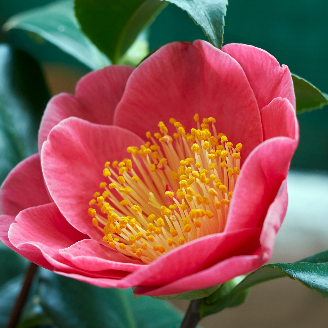 Kanjiro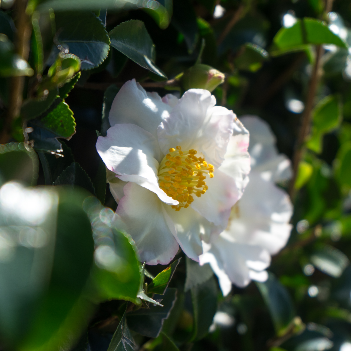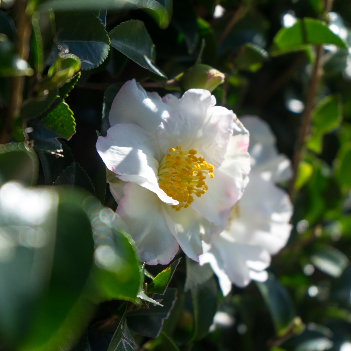 Dawn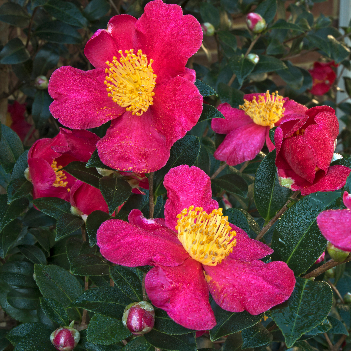 Yuletide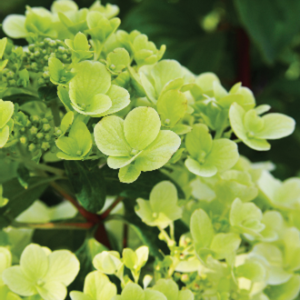 Lime Light Hydrangea: This is simply a gorgeous hydrangea that can take the sun! Large, cone-shaped blooms beginning green, changing to white, then to rose color in the fall. Drops its leaves in late fall/winter, 6-8 ft. tall, and fast-growing.
Fragrant Tea Olive: Every home should have at least one of these evergreen shrubs. Small, fragrant, white blooms appear in spring and fall, and sometimes in-between. Plant it near an outside living space, or somewhere you are going to walk by, so that you can enjoy the fragrance. Growth can be 10-12 ft. and it can handle full or part sun. In natural form, Fragrant Tea Olive is a dense, large shrub, however, feel free to prune out the bottom branches to create a small evergreen tree.
Autumn Fern: For contrast in form in a shady area, try Autumn Fern. This evergreen fern provides interest year-round, but especially in spring when the brown fern stalks reach out and open. Very drought tolerant, growing 3-4 ft. tall and wide. Plant individually or in a group.
Maiden Grass: These perennial grasses with long, graceful blades blowing in the breeze, offer another interesting plant form in the landscape. White plumes appear in summer adding to the effect. Plant individually or in a group. Take a look at these two varieties…. Adagio, reaching 3-4 ft., and Gracillimus, 5-6 ft. Other than size, their characteristics are the same.
Adagio
Gracillimus
Japanese Maple: Whether grouped in an oriental garden, standing alone near the entrance of a home, or in a wooded natural tree area, the unique foliage and growth habit of a Japanese maple stands out and makes a beautiful statement. Appropriate for shade or sun, these specimen trees offer many options with deep burgundy, green or bright chartreuse leaves, weeping canopies, and even stems that turn red in winter. Shop for the mature size that fits in your space, but keep in mind that even the largest varieties are still considered relatively small trees.
Crimson Queen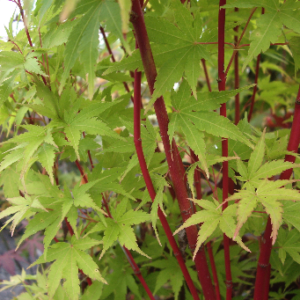 Sango Kaku AKA Coral Bark
October Glory Red Maple: One of the most striking of the Red Maples, October Glory lights up the landscape in fall with bright orange/red foliage. Fairly fast growing, drops leave in winter, reaches 30-40 ft. in height. Thrives in full sun.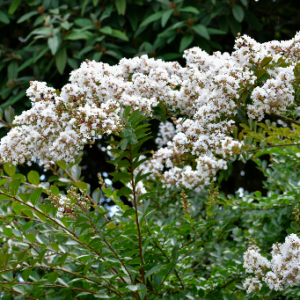 Natchez Crape Myrtle: This lovely southern tree accents the landscape with a weeping growth habit, full of elongated white blooms in summer. Deciduous (drops leaves in winter), sun-loving and fast-growing, it will reach 20 ft. in height. Don't prune, unless you need to shape it a bit; let it grow naturally to its mature size.
Mediterranean Fan Palm: Any palm makes a great focal point, especially near a pool or the lake. One of the most interesting is Mediterranean or European Fan Palm, due to its multiple trunks. Palms love sun and humidity, but many are susceptible to freezing temperatures. This variety is one of the MOST cold-hardy and can hold its own around here in the winter. Slow-growing, it can eventually reach 10-15 ft.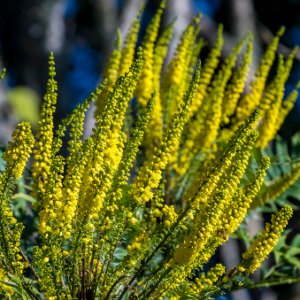 Mahonia: For a striking show in the middle of winter, check out Mahonia. Great for a shady spot, however, a few hours of morning sun encourages the bright yellow blooms. Soft Caress is a low-growing variety (2-3 ft.) that creates a show when grouped together.
If you want some professional help, Wingard's Market offers a landscape design service.
Click here for more information.
There's always something blooming at Wingard's!