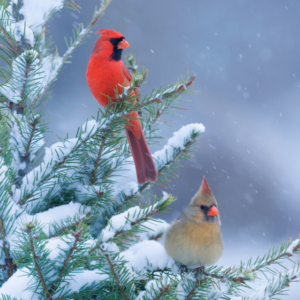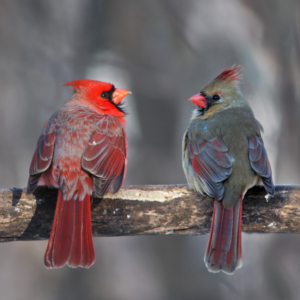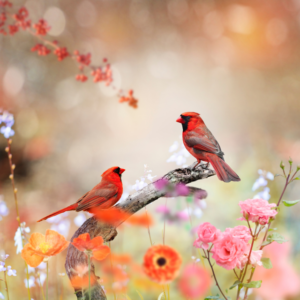 Chances are you have probably received a Christmas card illustrating a snowy white landscape as the backdrop for a barren tree or fence post holding a bright red cardinal. The Northern Cardinal, AKA Red Bird, is common throughout the eastern United States from Maine to Florida, continuing north into Canada, and west to southern Minnesota, Nebraska, Texas, and the eastern half of Mexico. It's hard to take your eyes off the male Northern Cardinal, with its brilliant red feathers, black mask, and orange/red beak. The female is a buff golden-tan with a red tinge to the wings and tail, with a smaller, less distinct mask. Both genders have a prominent head crest that can be raised and lowered to indicate the bird's mood.
When spring arrives, one of the first songbirds noticed is the Northern Cardinal. Males, in particular, may sing throughout the year, though the peak of singing is in spring and early summer. Males often sing to scare away the competition when courting. Few female North American songbirds sing, but the female Northern Cardinal does, and often while sitting on the nest. This may give the male information about when to bring food to the nest. A mated pair shares song phrases, but the female may sing a longer and slightly more complex song than the male. The cardinal repertoire includes sounds like what cheer, what cheer, what cheer or purty, purty, purty. For a sampling, click HERE.
Cardinal couples typically mate for life and produce up to 3 clutches of eggs in a season. These birds bond over a feeding courtship ritual in which the female bird mimics the behavior of a nestling and the male bird offers her seeds or berries in a kiss-like gesture. The male becomes aggressive in his protection of his territory and is known to engage in a battle with his own reflection. If you ever see a cardinal hitting a window over and over, that's what is happening. The female cardinal builds the nest, usually 3-10 feet above the ground in a dense tree or shrub. While the female tends the nest, the male cares for her by bringing food and guarding against predators. Both parents tend to the cardinal chicks, and even after the chicks have matured, they stay together as a family.
When given the opportunity, cardinals will feed on a wide variety of insects, however 90% of their food intake is sourced from weed seeds, fruits, grains and berries. Many of the foods contain carotenoids, the source of phytonutrients like beta-carotene and lutein. Cardinals have an enzyme that converts yellow carotenoids to red before depositing them in the feathers. Some cardinals have a defect that fails to convert the carotenoids, causing the birds to have yellow feathers instead of red. Cardinals will forage while hopping on the ground or in low bushes, and sometimes higher in trees. They readily come to bird feeders, where they favor sunflower and safflower seeds. Because they do not migrate, it is likely your cardinal visitors will return to the same feeders.
An interesting fact about the Northern Cardinal….it is the State Bird in 7 states in the US. Those states are: Illinois, Indiana, Kentucky, North Carolina, Ohio, Virginia, and West Virginia. Northern Cardinals are also associated with a great deal of folklore, legends, and spiritual beliefs in many different cultures. It is common folklore that a visit from a cardinal represents a sign from a loved one who has passed. Birds have often symbolized heavenly visitors, messengers to the gods, or even the gods themselves in feathered form. This belief has been part of ancient Egyptian, Celtic, Maori, Irish, and Hindu spiritualism, as well as the lore and legends of many Native American tribes. Cardinals are often associated with romance, and it is believed that if you are single and see a cardinal, romance is in your near future. At the same time, if you are in a relationship and a cardinal crosses your path, it is said to be a reminder to honor your partner and remember the romance that brought you together.
If you haven't been charmed by the Northern Cardinal or another of the birding community in your yard, you're missing out. Get acquainted by installing a feeder somewhere in a spot that you can view from your porch, deck, or window. You'll be in awe when you see that male cardinal sitting on the bare tree branch or the fence post…so beautiful, with or without the snow!
Visit Wings & Things, the Birding Department in the Wingard's Produce Market, select a feeder and grab a bag of Cole's Birdseed. While Cardinals will eat a variety of seeds, safflower is one of their favorites. Safflower is also a lifesaver for those having trouble with squirrels or large "nuisance" birds. Since most squirrels and blackbirds don't like the bitter taste, it is an easy way to send a message to any undesirable visitors.
There's Always Something Blooming at Wingard's!