Papapalooza
Let Dad kick back and relax!
A day set aside just for good ole' Dad!
Saturday, June 17 – All day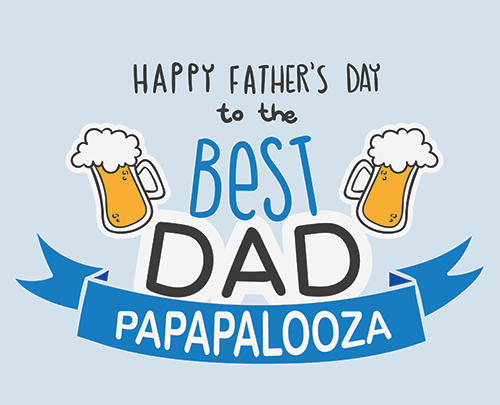 Join us as we celebrate our fathers at Papapalooza!
FATHER'S DAY GIFT IDEAS EVERYWHERE
Whatever your dad likes to do we have him covered:

Does he like to eat?
What dad wouldn't like to start his day off with a man-sized hearty breakfast?
Come sample some of our man-favorite breakfast foods from 10:00 am – 1:00 pm inside the Produce Market.
Old School Syrups, Pancake Mix, Sorghum Molasses: Company in Albemarle, NC a family that has continued a father's legacy, making all the old southern favorites for others to continue to enjoy.
Loveland Coffee: They serve high quality certified Fair Trade Organic Coffee. They locally roast their own beans.
Vermont Maple Farm Syrup: This farms in located in the "Green Mountains" of Vermont. Their Syrup is Certified Organic 100% Pure Vermont Maple Syrup.
Plus: Sylvan Sausage, Keisler's Mill Grits, and Heirloom Tomatoes

Does he like to have cold one?
Pick out a new Lemon or Lime tree in the Garden Center (on sale for 25% off), and we'll hand him a free Corona beer with each tree that's purchased. (While supplies last.)

Does he like to garden?
If he likes to garden, wander on over to the rose section and have him pick out a new Week's Rose – They are on sale for 50% off for Papapalooza only. (Does not include Drifts and Knockouts)

Does he like to bird watch?
All Cole's Bird Seed is 25% off – Limit 1 bag per customer at discounted price.

Does he like to smell good?
Not that we're telling you to tell your dad that he smells funny but…… Duke Cannon is a body product for your men created by a man. These products are perfect for hard working & outdoor men.

Do you want us to help you buy your Father's Day Gift?
Starting Saturday, June 10 through Saturday, June 17 before noon, you can stop in at the Market and register for a drawing for two gift baskets for Dad.
Basket #1 is a Gift Basket – Basket #2 is a Produce Basket. (Each basket is valued at $30.)
We will hold the drawing at noon on Saturday, June 17 and call you if you win, so you can pick it up in time to give it to your Dad on Sunday.
There's no better way to honor Dad than a day at Wingard's Market.