The days are getting cooler and a variety of new crisp fruits and vegetables are showing up at the Product Market.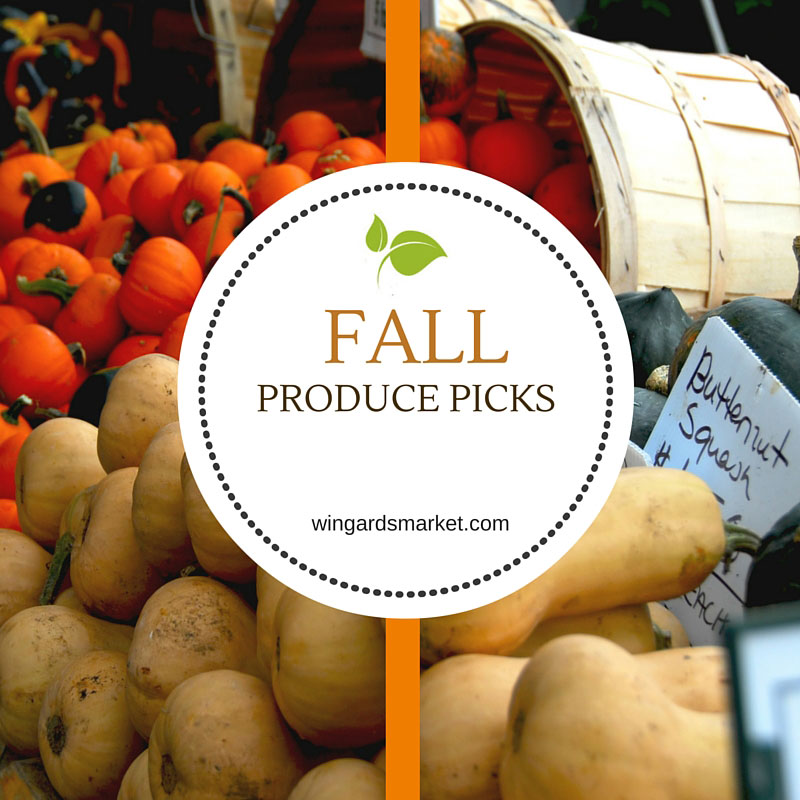 We are a couple weeks into fall and pumpkins and winter squash can be seen everywhere! The smell of fresh pumpkin and pecan pies, along with crisp apples are filling our harvest baskets.
Here at Wingard's our baker is in the house for your all holiday baking needs! During the holiday's, we take orders for pumpkin and pecan pies. We need a lead time of 4 business days to fill an order.
Call Wingard's at (803) 359-9091 to place you holiday pie order!
Our produce choices are the perfect excuse to get you cooking on a brisk fall evening. Potatoes and pecans, along with the classic apples and squash, are just a few of the many Fall favorite produce picks you can use in your cooler weather recipes.
Fall produce is at its peak flavor and highest value right now. Try incorporating one or all of these top picks into your menu this month.
Apples
Everyone has heard the phrase "An apple a day helps keep the doctor away," but there is nothing better than biting into a crisp fall apple. The sweet, crunchy taste is at its best in the fall. With such a large variety, you can choose from sweet to tart. And if you don't know what would work best for your dish, ask our experts at the market for their recommendations.
When choosing apples pick ones that are firm and free of blemishes or bruises. Apples emit ethylene, which speeds up ripening, so always store them in a cool place away from bananas or citrus. If kept in a cool dark place apples can last up to 6 months.
Beets
This favorite purple root vegetable may be available all year-round, but they are best in the fall. You can find many varieties that produce white and even a golden yellow roots, but the reddish-purple color is our favorite.
Look for firm, smooth bulbs with crisp green tops. For the best flavor don't wash the beets until you are ready to use them. And don't throw the beet greens away use them in a salad to capture all their healthy benefits.
Brussels Sprouts
For such a tiny vegetable, Brussels sprouts are full of nutrients. Just one cup provides more vitamin C and vitamin K than most other vegetables. They have a mild somewhat bitter taste and are best roasted.
Look for small firm heads that are bright green and have no blemishes. Avoid those that are light and airy. They will keep in the refrigerator for up to five days.
Onions
Even though onions can be found all year long, most onions are harvest in late summer and into early fall. A staple in most dishes onion adds the finishing touch to most savory dishes. Onions have a juicy flesh, covered with a papery skin and come in a broad range of sizes, shapes, and flavors.
When buying onions, be sure to look for firm onions that are free of cuts and blemishes. Onions can last for several weeks if stored in a cool, dry, well-ventilated place.
Pears
Pears are the most overlooked sweet fruit of fall. Like their cousin the apple, pears can work great in any dish apples would typically be used. They come in a variety of flavors from tart to sweet. Pears are a healthy source of soluble fiber, which helps your body maintain healthy cholesterol levels.
To slow the ripening process store them in the refrigerator. When stored in a similar condition to apples, pears will last for a few months.
Pumpkins
A member of the squash family, pumpkins are rich in history and healthy benefits. Unlike summer squash, winter squash is finely textured and slightly sweet. Because of its thick skin, pumpkin can be stored for months, although you probably won't wait that long to eat it. Its nutty flavor goes best with other fall flavorings like cinnamon and ginger.
A low-calorie food, pumpkins are full of dietary fiber and is brimming with vitamin A are rich in beta-carotene. It's enough to make you think twice about turning down that second piece of pumpkin pie.
Sweet Potatoes
These nutrient-rich potatoes are awesome in both sweet and savory dishes. These naturally sweet root vegetables are equally delicious in desserts. These orange beauties have the best flavor during fall. Like squash, sweet potatoes are rich in beta-carotene.
Choose uniform sized sweet potatoes that feel heavy in your hand and buy them shortly before you plan to use them. Store whole potatoes in a cool, dark place and toss any that have started to sprout tubers.
Winter Squash
From acorn to butternut nothing screams fall like squash. They are a fall favorite for roasting, mashing and pureeing. Winter squash are one of the best plant-based sources of Omega-3s and beta carotene, making them the perfect veggie to consume during cold and flu season.
Choose squash that remains firm when pressed, contains an entire stem, and feels heavy for its size. Winter squash can be stored in a cool, dark place for several weeks if kept in its tough exterior. Kept refrigerated for a few days if cut or raw.
White potatoes
Who does not love a big bowl of buttery mashed potatoes? They're inexpensive, filling, and they can last all winter long with the proper storage—now is a great time to stock up on them.
———————————————–
Here at Wingard's Market we specialize in providing outstanding customer service, offer professional gardening advice, and answers to your every day gardening questions.  Stop by and visit our beautiful Gift Shoppe and Fresh Produce Market while you stroll under century-old pecan trees.  It's truly a Garden Wonderland!

Located at 1403 North Lake Drive in Lexington, SC. Call us at (803) 359-9091