Fresh Produce Market
There's always something blooming at Wingard's!
Locally Grown SC Produce & Products
Welcome to Wingard's Fresh Produce Market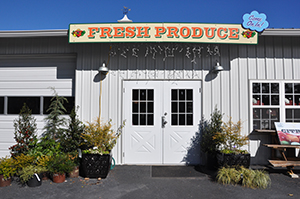 Wingard's Produce Market takes pride in showcasing produce purchased locally from the farm, with no middle man. 
Eat local, buy local, is our motto!
Here at Wingard's we are passionate about eating and buying local! Working with area farmers, we are making it easier for you to know where your food comes from. By supporting the locally grown food movement we cater to those who care where their food comes from. We are stocking our market weekly with locally grown fruits and vegetables to meet this need.
The Fresh Produce Market at Wingard's is now offering a subscription Fall Meal Basket service.  The weekly baskets will contain a recipe and items to make a meal with 4-6 servings.  These cool-weather meals will be different each week and feature fresh vegetables and fresh frozen meats from our Produce Market.  
The 5-week subscription order must be placed by Monday at 6:00 pm in order to begin that Friday. 
Customers may not request substitutes, but Wingard's may substitute products without notice due to availability.  Baskets must be picked up on Friday between 9:00 am – 6:00 pm, or Saturday between 9:00 am – 5:00 pm.  Any baskets not picked up by 5:00 pm Saturday will be donated.  No refunds or cancelations.  NOTE:  Week of Thanksgiving, pickup will be on Wednesday Nov 25 only.
WEEK 10 – Dec 4
Soups and More
1 Pint Faithful Foods Broccoli Chowder Soup
1 Pint Faithful Foods Potato Chowder Soup
1 Kristin's Kitchen Small Chicken Pot Pie
1 Kristin's Kitchen Small Shepherd's Pie
 Stop in for the freshest seasonal produce from some of these local farmers:

Blackburn Brothers – Fresh Seafood (Carolina Beach, NC)
Clayton Rawls Farms – Tomatoes & Other (Lexington, SC)
Derrick Gunter – Heirloom Tomatoes (Lexington, SC)
Indian River Fruit – Fresh Florida Citrus (Central Florida)
Jackson Brothers – Tomatoes, Deer Corn, Corn Stalks (Pelion, SC)
John's Island Tomatoes (John's Island, SC)
Krause Brothers Orange and Grapefruit Juices (Greeville, SC) when in Season (Nov. through June)
Little Mountain Homestead Farms – Hydroponic Bibb Lettuce (Little Mtn, SC)
Monetta Asparagus Farm – Asparagus (Monetta, SC)
The Patch, Mike Keisler's Strawberry Farm, Lexington, SC – Spring Strawberries (Gilbert, SC)
Severt Farms – Misc Produce (Columbia, SC)
Still's Produce – Pumpkins (Pelion, SC)
V.B. Hook – Misc. Produce (Columbia, SC)
Watsonia Farms – Peaches & Organic Vegetables (Monetta, SC)
We are also proud to carry locally produced products from the South and beyond, including:

Adams Apple Butter (Lexington, SC)
African Market Baskets (Ghana Province, Africa)
Ashe County Cheeses (West Jefferson, NC)
Baked Goods by JoAnn Moss (Lexington, SC)
Bee Trail Farms – Raw Local Honey (Lexington, SC)
Blue Ridge Brinery, Saurekraut and Kimchi (Anderson, SC)
Bourbon Barrel Foods – Bourbon Barrel Wood Smoked Rubs, Spices, Sauces (Louisville, KY)
Braswell's Seafood Dipping Sauces and Salad Dressings (Statesboro, GA)
Butter Crocks 
Clemson, SC Blue Cheese Blue Cheese Dressing and Ice Cream (Clemson, SC)
E- Cloth

Chemical Free Cleaning Products 

Faithful Foods, Cookies,Cheese Wafers, Quiches, Tomato and Squash Pies, Soup and Dip Mixes (W. Columbia, SC)
Grey Ghost Cookies (Charleston, SC)
Gillespie's Peanuts (Hartsville, SC)
Golden Kernel Pecan Co. – Pecans, Candy, Pies (Cameron, SC)
Keisler's Grits Mill (Gilbert, SC)
King of Pops – Fruit Pops (Atlanta, GA)
Kinloch Plantation Products – Pecan Oil (Winnsboro, LA)
Limited Edition Honey Nut Butters (New Braunfels, TX)
Loveland Coffee (Irmo, SC)
Nellie T's All Natural Peanut/Nut Butters and Pimento Cheeses (Simpsonville, SC)
Porzio's Pestos and Pasta Sauces (Savannah, GA)
Pure Vermont Maple Syrup (West Topsham, VT)
Roots and Branches Organic Crackers (Asheville, NC)
Roots and Leaves, Elderberry and Honey Tonic and Herbel Tea (Graniteville, SC)
Sallie's Herbal Jams – (Cameron, SC)
Soberdough Brew Breads (Nashville, TN)
Sylvan Farms – Sausages & Fresh Produce (Saluda, SC)
Urban Accents Vegetable and Meat Seasonings (Chicago, IL)
Willie's Hog Dust – Seasonings, Pickled Okra, Green Beans & Asparagus (Sumter, SC)
Watanut Gourmet Nuts and Cookies (Augusta, GA)
Wisham Pepper Jellies (Tifton, GA)
Yoder's Good Health Herbal Tonic – Blend of real apple cider vinegar & fruit juices, along with 14 herbs & spices. (Fair Play, SC)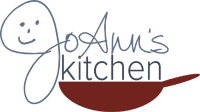 Specializing in delicious sweets … for every taste …. for any occasion.
All items are made from scratch with no added preservatives.
Click here for a complete list of baked goods by JoAnn's Kitchen.