Native Plants to South Carolina
There are many benefits to using native plants in your landscape!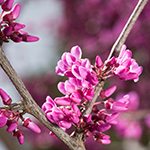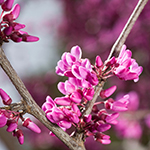 With the hot and dry South Carolina climate there are many native plants that do well in the Midlands. Not only do native plants produce beautiful flowers, they also produce fruits, seeds and nectar that are friendly to wildlife. Wild birds, native to the United States, evolved with a dependency on plants that are also native to the U.S. Some birds feed on insects, amphibians, fish, reptiles and small mammals. These food sources also depend on native plants for their sustenance. The plant life required to sustain our native wildlife is destroyed in the course of urbanization. Clear cutting trees for home building and office parks upsets the balance of nature and threatens some of our native species. For example, certain species of woodpeckers are endangered because homeowners are less inclined to plant oak trees, which make "messy" acorns for birds to eat. Monarch butterflies are endangered because the "host" plant on which they lay their eggs (milkweed) is seen less in nature. The Monarch's eggs hatch into caterpillars, which eat the milkweed, before spinning a cocoon and later becoming a butterfly.
You can help to restore the availability of native plants, by adding a few to your landscape. In this way, we can all make a difference and help save endangered species one yard at a time.
Most native plants require little care because the growing conditions here are perfect for them to thrive. Choosing the right plants for your yard will mean you may be able to use fewer pesticides and less water.
There are varied definitions of "native plants," however most people accept the idea that we are talking about plants that were here before the European colonization of North and South America. This brings into question, what about "cultivars" of native plants…. are they truly native?
American Beauties Native Plants, a reputable grower, explains it this way, "We define natives as straight species and their cultivars, with cultivars being selections of straight species that have not been hybridized with other species. A cultivar is a plant that has been selected and cultivated because of some unique quality it has such as: disease resistance, cold hardiness, height, flower form or color. Sometimes interesting varieties are found in nature and brought into cultivation making them cultivated varieties or cultivars."
For example, Red Maple (Acer Rubrum) is native here. Its cultivars, Autumn Flame, Autumn Blaze, October Glory, Red Sunset, Summer Red, are also considered native. They were cultivated from red maple trees which were found in the wild and noted for their particular color or hardiness.
Consider adding a few of the following native plants to your yard and help save our natural heritage for future generations:
Blackgum
Red Maple -*Cultivars: Autumn Flame, Autumn Blaze, October Glory, Red Sunset, Summer Red
River Birch – Cultivars: Dura-Heat
Eastern Redbud – Cultivars: (green leaf), Forest Pansy (red leaf)
Eastern Red Cedar
Grancy Graybeard
Dogwood (Cornus Florida) – Cultivars: Cherokee Brave, Cherokee Princess
Tulip Poplar
Palmetto, Dwarf (sabal minor)
Persimmon, American
Southern Magnolia – Cultivars: Bracken's Brown Beauty, Claudia Wannamaker, Little Gem
Sweet Bay Magnolia
Sycamore
Willow Oak
Live Oak
American Beautyberry
Blueberry, Rabbiteye – Cultivars: Climax, Tifblue, Premier
Buttonbush
Carolina Allspice / Sweetshrub
Chokeberry
Clethra – Cultivars: Sixteen Candles
Elderberry
Fothergilla – Cultivars; Mount Airy
Holly, Inkberry
Holly, Winterberry
Hydrangea, Smooth – Cultivars: Annabelle
Hydrangea, Oak Leaf – Cultivars: Snow Flake, Snow Queen
Spicebush
Spirea Meadowsweet
Spirea Steeplebush
St. Johnswort – Cultivars: Sunburst
Virginia Sweetspire (Itea) – Cultivars: Henry's Garnet, Little Henry
Viburnum Blue Muffin Arrowwood
Wax Myrtle 
Climbing Aster
Cross Vine – Cultivar: Tangerine Beauty
Carolina Jessamine, Yellow Jessamine
Coral Honey Suckle
Purple Passion Flower
Wisteria
Blue-eyed Grass
Pink Muhly
Shenandoah 
Cinnamon
Ostrich
Southern Shield
Amsonia
Arum (water plant)
Aster
Bee Balm – Monarda
Beardtongue – Penstemon
Black Eyed Susan – Rudbeckia
Blanket Flower – Gaillardia
Cardinal Flower – Lobelia
Coneflower – Echinacea
Cranesbill
False Indigo – Baptisia
Gaura
Goldenrod
Iris, Blue Flag
Ironweed
Joe Pye Weed
Lizard's Tail
Milkweed
Mountain Mint
Phlox
Pickerel Weed
Salvia
Spiderwort
Stokesia
Tickseed – Coreopsis
Verbena, Homestead Purple