Azaleas
There's always something blooming at Wingard's!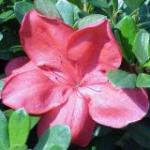 Plant enthusiasts have selectively bred azaleas for hundreds of years. This human selection has produced over 10,000 different cultivars which are propagated by cuttings.
Azaleas are generally slow-growing and do best in well-drained acidic soil (4.5–6.0 pH). Fertilizer needs are low; some species need regular pruning.
Encore Azaleas (all varieties stocked)
Amethyst
Angel
Belle
Carnation
Carnival
Cheer
Chiffon
Coral
Debutante
Embers
Empress
Ivory
Lilac
Lily
Monarch
Moonlight
Princess
Rouge
Royalty
Ruby
Sangria
Sunburst
Sundance
Sunset
Sweetheart
Twist
Wingard's Own (indicas)
Chinsoy
Christmas Cheer
Coral Bells
Formosa
George Taber
Gerber White
Gumpo Lt. Pink
Gumpo White
Hershey Red
HH Hume
Hino Crimson
Hino de-Giri
Judge Solomon
Pink Pearl
Red Slipper
Red Wing
Snow